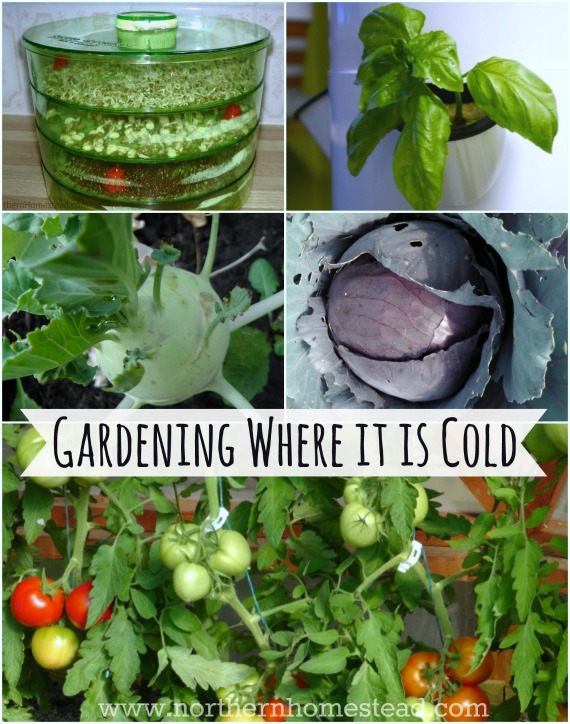 We are in Alberta, Canada, at the foothills of the Rocky Mountains – plant hardiness zone 3A, elevation 1,037 m (3,402 ft). Yep, it's cold here! While the southerlies plant their garden, we pile up more snow, while they harvest their first crops, we plant ours, and while they still complain about the heat troubling their plants we already cover ours to protect them from the first frost. Gardening where it's cold is just a bit different (or maybe it is a whole lot different ;)). If you know the differences, you can grow lots of food here, too.
In this post, we share many links to helpful information for gardening in a cold climate. Just follow the link and read more on a topic that interests you. You can find all the gardening post listed on one page here.
Spring gardening where it is cold
It was a beautiful day here in the middle of April. We were excited to finally see the snow melted. We were working in the garden bare feet, preparing our very first garden bed. However, local friends had warned us not to plant. Why not? We learned why the very next weekend with a blizzard and temperature dropping to -20C (-5F) in late April! Since then we have learned a lot about gardening in the cold climate.
We use microclimates: Windbreaks will make the spot warmer, good for cold climate gardens. A slight slope to the sun will work for us but a slope away from the sun will work against us. Read more in Microclimate in a northern garden.
We want to catch every sunbeam we can. Raised beds do help to warm up the soil. See How to Create a New Garden Bed. For heat-loving plants, we need a greenhouse. See What greenhouse to choose to have the best sun exposure.
In our climate, most summer crops need to be started indoors. See Starting seeds indoors.
Winter sowing works here too, but just for winter crops and for some they will germinate too late. See Winter sowing in Zone 3.
We can grow some early crops even in an unheated greenhouse with proper protection. See How to Grow Early Peas.
See also When to Plant What – And Why Not Follow General Rule.
What varieties we plant in a cold climate and short growing season does matter. It might be the most important factor between success and failure. See annual vegetable varieties for a short growing season. We also can grow a number of perennial vegetables for a Zone 3 garden.
Summer gardening where it is cold
Gardening is usually a summer activity. Most plants need heat and sunshine to ripen. Our summers, however, are short and more on the cooler side.  In fact, it can snow here every month of the year. We often get a week or two of heat around 30C (86F), enough to get the salad bolting but not enough to ripen tomatoes. If you just got the impression that we would not be able to grow anything here, then it is time to tour our garden.
We grow lots and lots of yummy produce and store it for months to come. Every year we learn more about growing where it's cold and how to increase the harvest. We use a cold frame, a window protected garden and a greenhouse for heat-loving plants. We grow aeroponically things like peppers that would otherwise need a longer growing season. See growing the Tower Garden in a cold climate.
Our favorite crop to grow is tomatoes. Check out the growing tomato challenge and all the related posts.
Our summers might be short, but we do have long daylight hours that work to our advantage.
Fall gardening where it is cold
Our fall garden is more like a winter garden in warmer areas. We can use many winter gardening tips to grow food till temperature drops to about (-18C) (0F). Often this will be in late November. See how to plant a Fall Garden in a Northern Climate.
Frost protection is a big subject here in the spring as well as in the fall. See how different plant react to frost and plant protection from frost. And before real winter comes you want to prepare the garden for winter.
Winter gardening where it is cold
We plant spinach and garlic in the fall that does survive our frosty winters and continues to grow in the spring. No, there is nothing edible on these plants in the middle of -40, but as soon as it warms up, spinach grows new leaves. See how to grow overwintering spinach in cold climate.
We leave carrots in the ground for winter harvest. No, not under cold frames but rather under thick straw bales. The straw protects the carrots from frost damage and fresh carrots can be harvested even in our frosty winters.
And there is always the indoor growing. Sprouts, microgreens, and greens and herbs grown in an aeroponics garden survive and thrive indoors. See also winter growing in Zone 3. The indoor garden helps us to have fresh grown produce and to garden even where it is cold all year round.
Here are some inspiring books for gardening where it is cold: The Winter Harvest Handbook, Backyard Winter Gardening, Year-round Vegetable Gardening.
We invite you to subscribe to Northern Homestead and follow us on Instagram, Facebook or Pinterest for the latest updates.
More posts you might enjoy