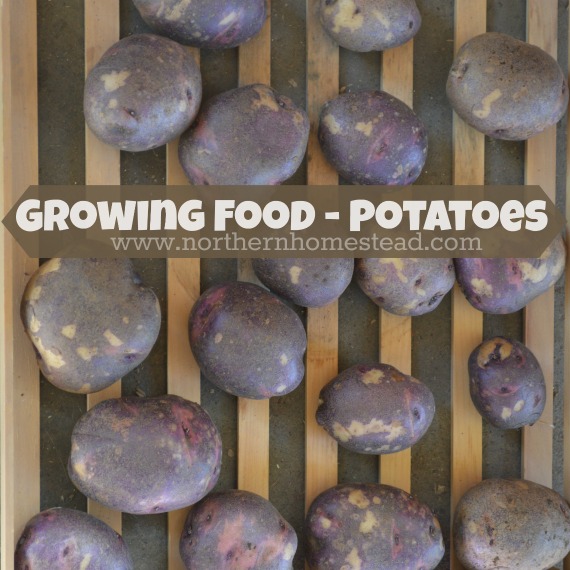 If you want to grow food that you eat, grow potatoes. It is a high-yield plant, easy to grow. Plus, potatoes store well for months. A must-have in the garden. Since potatoes are on the dirty dozen list, it is worth it to grow them at home.
To write up a how-to guide on growing potatoes is almost impossible. There are so many ways to grow potatoes, it really depends on your preference and situation. Find what works best for you and grow potatoes.
Potato varieties
In a supermarket, you can get the impression that there are just two potato varieties: red or white. In reality, there are many very different varieties in color, texture, and taste. Also early, mid-season, and late.
In a short growing season, early varieties might be your best choice. They should be ready to harvest 50-70 days after planting. Norland potatoes – an early variety, grow well here in our short summers and store well. We usually grow a few rows of them, simply because they are so no-fail.
Mid-season varieties typically mature within 70-90 days. They are often the tastiest potatoes and will produce more potatoes than early season potatoes and typically do not get as large. Yukon Gold is a popular mid-season potato. Purple Caribe has satiny blue-purple skin; whiter-than-white flesh. Yum!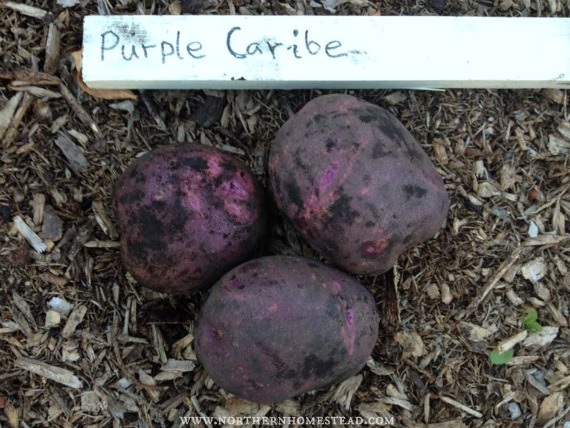 Our favorite potatoes to grow is German Butterball – a late variety. It has a fantastic buttery flavor and tastes best small. We usually leave them in the ground till the frost kills the tops. This way we also get a good amount of bigger potatoes as well. German Butterball is an heirloom potato. Great for eating fresh or for storing throughout the winter.
If you want something really exotic, grow Russian Blue. Those dark purple potatoes taste just like a good potato should but will sure be a conversation topic at your dinner table. Plus there is an Anti-Inflammatory effect of purple potatoes.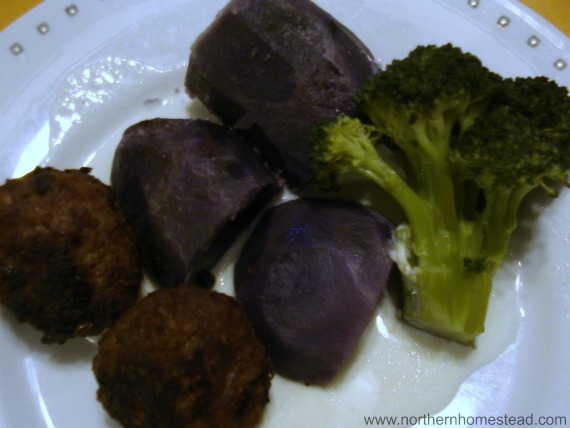 Potatoes also like tomatoes can be determinate (Bush type) and indeterminate (vine type) varieties. Early and mid-season potatoes will more likely be determinate and late varieties indeterminate. The indeterminate potatoes do well when hilled a few times since they continue producing potatoes along the stem.
There are many interesting and tasty potato varieties to choose from. To get inspired take a look at Eagle Creek, a potato seed farm just north of us, offering over 40 different potato varieties that all grow well in a short growing season.
Seed potatoes
Potatoes love to grow. Whenever they get even a bit of light, they start growing those long shoots. You did not know? Well, that's because store potatoes are heavily treated. Those do not grow. But a real potato wants to grow.
Yes, every potato by design is a seed potato. But since not every potato has been grown naturally, it is a good idea to get good seed potatoes for your garden.
You can easily save your own seed potatoes. Healthy, medium-sized potatoes make great seed potatoes. Also, green potatoes, which are not good for food but store well, make good seed potatoes. Every few years, if the production decreases, you can bring in new seed potatoes.
Does size matter? Rumor has it that if you plant big potatoes you get big potatoes and if you plant small potatoes you get small potatoes. Other growers claim that small seed potatoes bring bigger potatoes. We prefer using the bigger potatoes for food, and plant mid-sized or those that have been harvested green.
Chitting seed potatoes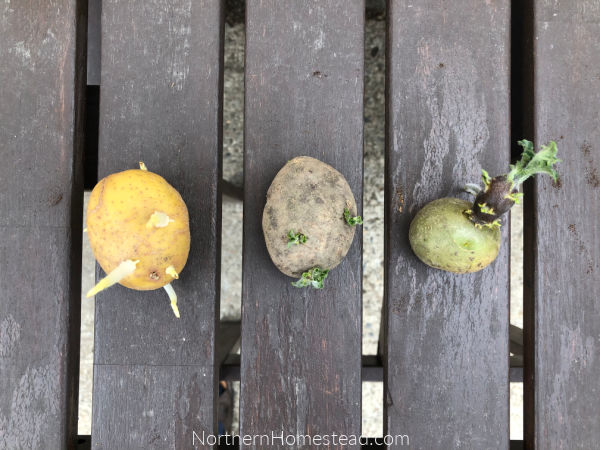 Seed potatoes can be prepared for planting by laying them out into a bright location and let them grow sprouts. This is called chitting. Potatoes do not have to be sprouted, but it is a good way to speed up the germination and even more important to keep seed potatoes from growing long sprouts.
In the picture above you see 3 seed potatoes, all 3 are great for planting. The first has been stored in a dark room, so the sprouts are weak and white. They will grow though. The second has been sprouted in a bright room for about a month. The sprouts are green and ready to grow. The third has been in a bright room for 4 months, the sprout is much bigger, and also ready to grow.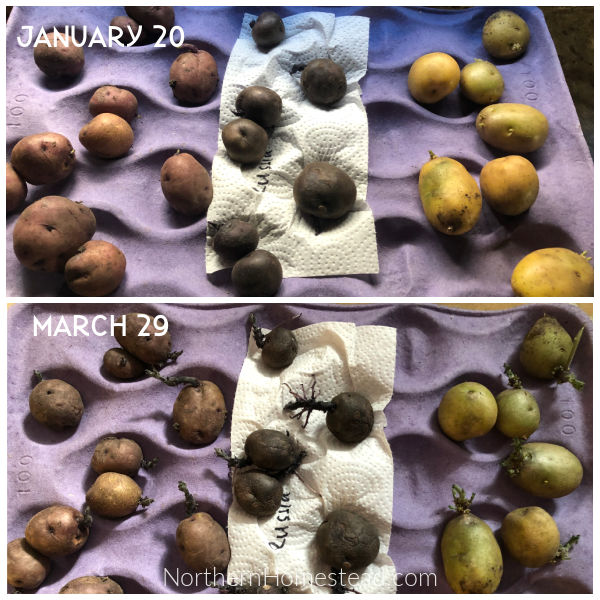 Can seed potatoes really be out in the light for months? As you see in this picture, in 2 months the potatoes grew small green sprouts. It is slow sprouting in comparison to potatoes that are stored in a darkish place and grow those long useless sprouts.
If you have less than ideal conditions to store seed potatoes, bring them out to light.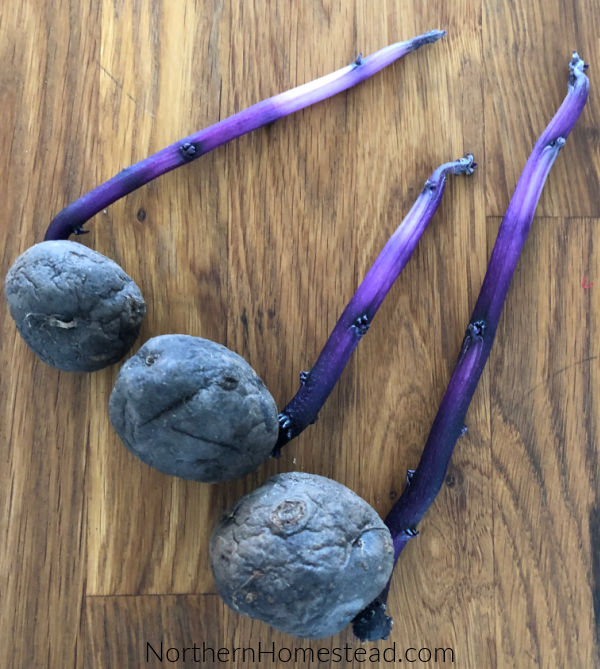 These long sprouts grew at the same time period, stored in an open box in the cold room. This is the Russian blue variety, in the picture before seen in the middle. You see not just the size of the sprouts is different, also the potatoes are dehydrated and shriveled. Those will still grow, but if we have a choice, we like the healthy sprouted better.
You want to keep seed potatoes as dry as possible, an egg carton, or as we used a harvest carton work well. If the only goal is to chit potatoes for planting, a 6- 8 week period is enough.
Also, if you have big seed potatoes, you can cut them in half or even make 3 out of one. Make sure each section has a few eyes to grow. Cut them beforehand, so the cut dries over and does not start to rot in the ground.
Preventing disease in seed potatoes
If your seed potatoes have a disease or come from doubtful sources, you might want to prevent them from spreading in your garden. Is that even possible? To some degree yes.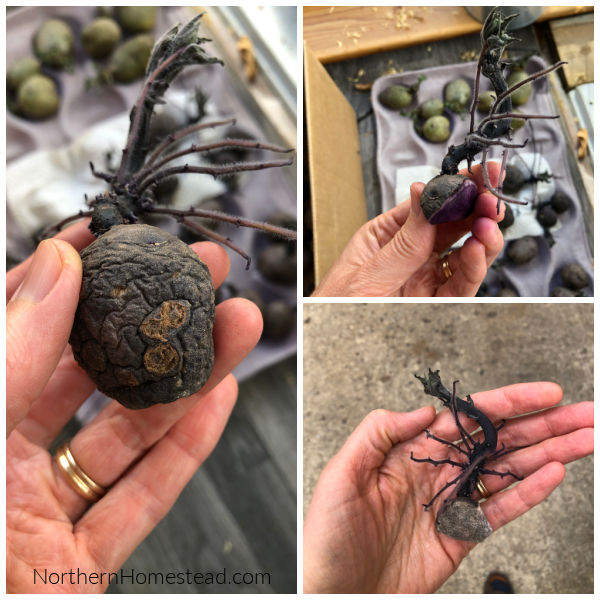 First, let the potato sprout. This one in the picture has been out in the light for months. It does not have to be that long. Just enough to see the main healthy sprout.
Now, cut the rest of the potato back so that only the healthy sprout is left. Let the cut dry for a few hours and plant.
Growing potatoes
Potatoes can be grown in many ways. In fact, I do not think there is a right or wrong way to grow potatoes. It mostly depends on your possibilities and preference.
Traditionally potatoes are planted in rows 3ft (ca. 91 cm) apart. The space between potatoes within a row depends on the variety. Early varieties can be planted close together (6″-10″), as they tend to have a low number of tubers per hill. Mid-season varieties are generally planted 8″ to 12″ apart. Late Season Varieties & Fingerling Varieties should be planted 12″ apart or more.
Once, or indeterminate varieties twice, during the growing season pull some soil up around the stems of the potato plants to hill them. The loose soil helps the developing tubers to expand easily and prevents the exposure of the potatoes to the sun and becoming green as a result of it.
Potatoes can also be mulched instead of hilled with soil. It makes for an easier harvest and if you grow a no-till garden, the soil is already covered with mulch. Potatoes will benefit from more mulch than your usual crop.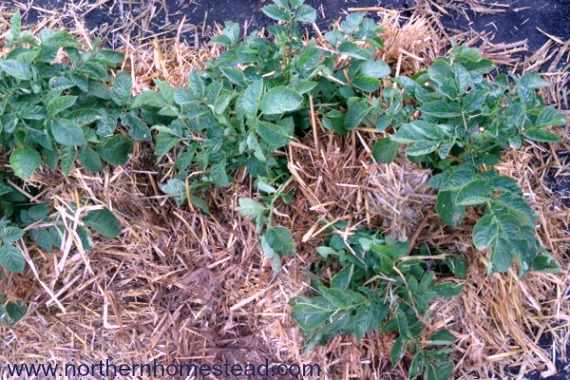 The pioneer in this easy mulching method was Ruth Stout, here's her book: Gardening Without Work
. She would simply lay potatoes on the ground and cover them with hey. However, to bury the seed potatoes a couple of inches into the soil seems to work better than just placing them on the soil and covering them with a thick layer of hay or straw. After experimenting with straw ourselves, we prefer using wood chips.
Potatoes can also be grown in containers. The idea is to fill the container half full, plant potatoes, and fill up the soil as the potatoes grow. See this enormous harvest of container-grown potatoes. All kinds of containers, bags, or tires can be used. For determinate potatoes, a bucket can work well, for indeterminate a taller container is better, so you can keep filling them up.
The Old World Garden Farms adopted the growing of potatoes "container style" in a more natural way. They created Potato Crates from non-treated pallet wood – and were very surprised with the results! Read about it here.
Companion plants and crop rotation
Potatoes grow almost everywhere. In fact, if you throw some potatoes on a compost pile, they will start to grow. So personally I do not know why we would need to look into what to plant or not plant with potatoes.
West coast seeds give these suggestions: Bush beans, celery, corn, garlic, marigolds, onions, and peas all do well planted near potatoes. Avoid planting potatoes near asparagus, Brassicas, carrots, cucumber, kohlrabi, melons, parsnips, rutabaga, squash, sunflower, and turnips.
It is also known that potatoes and raspberries should not be planted next to each other. The funny thing is that growing up my parents grew all the potatoes we eat for over 20 years in the same spot, always next to a row of raspberries. Back then there was no internet, and no one told them it was not a good idea ;).
Needless to say that I don't take companion planting and crop rotation very seriously. Both are way overrated.
Just use common sense for both companion planting and crop rotation.
Covering the soil annually with a 1-2 inch layer of compost makes crop rotation not so relevant. If you have a potato disease, it is better to crop rotate next year so as not to have the same problem. If the harvest was good, go ahead and plant the potatoes in the same spot again. Personally, I like to rotate for weed control. Potatoes are really the best crop to plant in a bed that has had a weed problem. They are such prolific growers, that nothing else wants to be close.
That being said, choose a plant next to the potatoes wisely. We usually give the potatoes a whole bed so they can take the space they need.
Potato diseases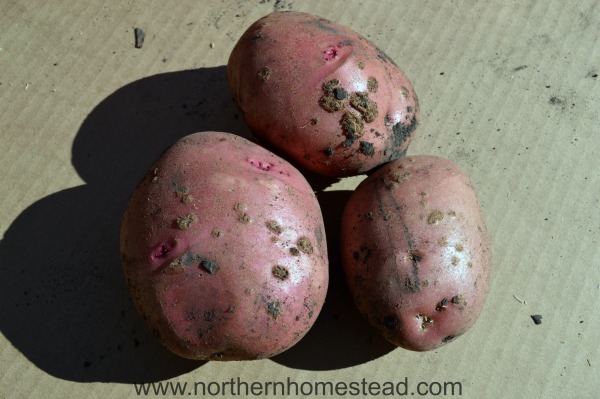 Potato scab is one of the most common potato diseases. In common language, it might also be known as blight. However, scab and blight are not the same. Scab is a bacterial disease that only affects the outer skin of the potato. It looks worse than it is. Potatoes are still edible and even store well with scab. Scab occurs if the soil is too dry, or if there is too much nitrogen-rich fertilizer.
Potato blight, on the other hand, is a fungus, the worst disease a potato grower can have. Blight develops in warm and humid conditions and is not common in our climate.
Other problems are white Spots on Potatoes Lenticels & Potato Stem Rot.
Colorado Potato Beetle
Thankfully we do not have to deal with this problem here at Northern Homestead. But, we did make some experiences with CPB while living in Virginia. Spraying the beetles was part of Jakob's job in the summer. It was not our garden, so Jakob just did what he was told to do, but could clearly see that it did not work. The potatoes died before the beetles did.
We visited a great gardener in the next town and were amazed to see that her garden didn't have a beetle problem. She simply was knocking the mature beetles off the plants, instead of picking or spraying them. It seemed that she got them early on so that they'd have a hard to impossible time of getting back on the plants to lay eggs. In the morning she would quickly shake out rows of plants, and not see a return of Colorado potato beetles. This method is very simple and worth trying out.
Harvesting potatoes
As soon as potato plants start to flower, there are some young potatoes underneath that can be harvested. By the way, those are beautiful flowers, first potato plants were known only as flowers before people knew that the tubers are edible and so yummy. You can dig those early potatoes from the side of the plant, without killing the plant.
Young potatoes have very thin skin. The thicker skin develops when the plant stops growing and starts to die back. In our short growing season, this often happens by frost. Light frost kills the plant and stops the growth, the potatoes can mature. We often harvest our potatoes after the killer frost during the Indian summer.
When the plant starts to die back, the potatoes are ready to be harvested for storage. At this stage, the skin has developed and the tubers will store for months.
If possible, choose a dry period to harvest potatoes for storage. Now it really does make a difference what method was used to grow them. The traditional method will involve hard work to dig all those potatoes up. Maybe that is the reason why so many easier ways have been developed, to eliminate all the back-breaking digging. No matter how you get them out, try not to stab any.
Here an 800g (1.76 pounds) potato, and a 250g (o,55 pounds) carrot that we grew in the farm garden.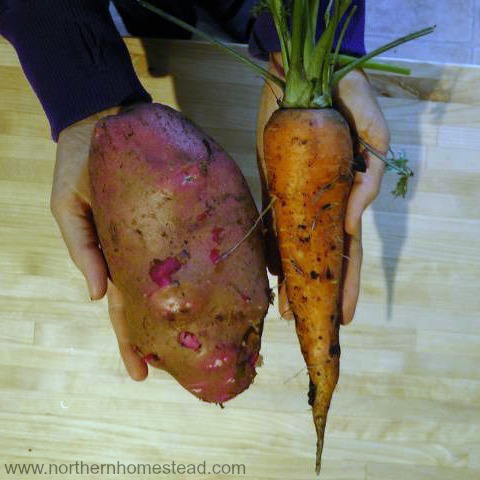 Storing and preserving potatoes
Potatoes can be stored for months in a burlap potatoes sack or wooden crate. We often eat the last ones while planting fresh potatoes.
Let the tubers dry out a bit (just for an hour or two as needed to dry), before storing them. Do not leave potatoes for days in bright light, even worse under sunlight. They will get green.
Also, do not wash the potatoes, they will store better for you if you don't. Give them a week or two for drying or "curing" in a warmish (about 60F) but a dark place. This will help to heal any cuts or bruises and make the skin stronger for long time storage. This often happens naturally for us, since our storage room tends to be warmer before winter conditions set in.
After the curing, potatoes need a cool (35 -40F) dark place. Even though we find, that the dark is more important than the temperature.
When potatoes start sprouting, and they will, then just take those sprouts off. It will help them to stay firm longer. I often go twice through all the potatoes to get rid of unwanted sprouts.
Tip: If you don't have great potato storing conditions, but still want to save your own seed potatoes, as we showed above lay them one by one into an egg carton and store them in a bright place. They will turn green and grow little sprouts, not the long white sprouts you get from dark storage.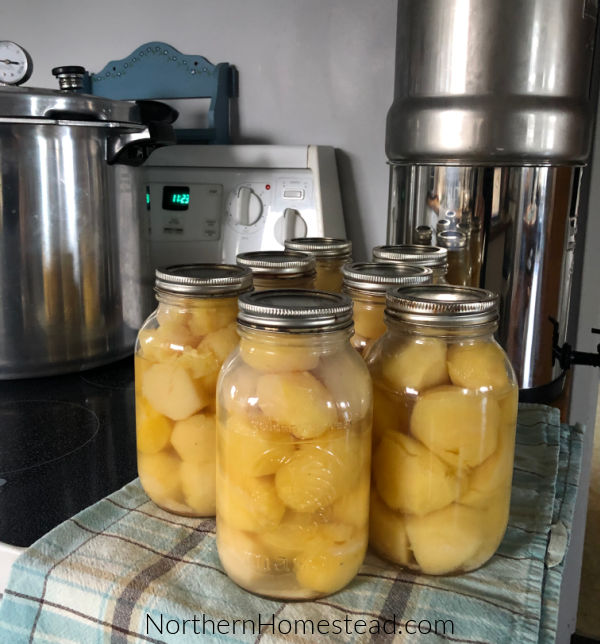 Pressure canning potatoes is another great way to preserve potatoes. It does not have to be done right at harvest time. Store them as long as you think they will store, but before they start growing sprouts, potatoes can be canned. Having canned potatoes on hand during the busy summertime is great.
Cooking potatoes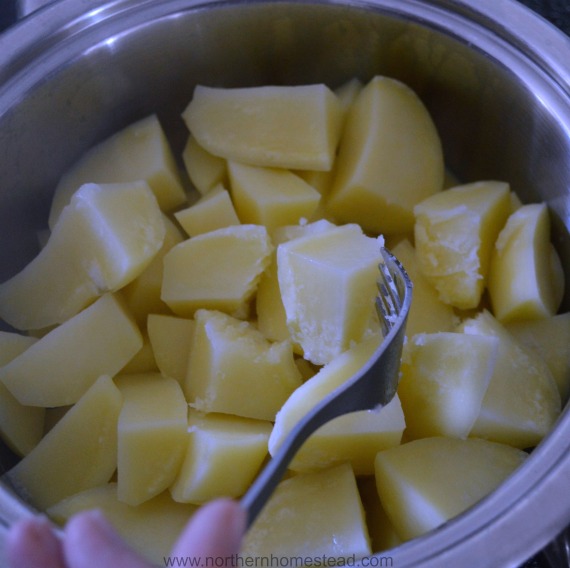 Potatoes are yummy and nutritious vegetables as long as you do not boil them out in lots of salty water. Think about it, if you brew yourself some tea, you drink the tea and throw out the leaves. If you cook yourself some potatoes, you eat the potatoes and throw out the water. What is the logic in that? How much do you think gets lost if you boil something for 20 minutes and then discard the broth? Just like other vegetables, potatoes do taste best steamed. See how to steam vegetables without a steamer.
What is your favorite way to grow potatoes?
We invite you to subscribe to Northern Homestead and follow us on Instagram, Facebook, or Pinterest for the latest updates.
More Growing Food Posts You Might Enjoy: