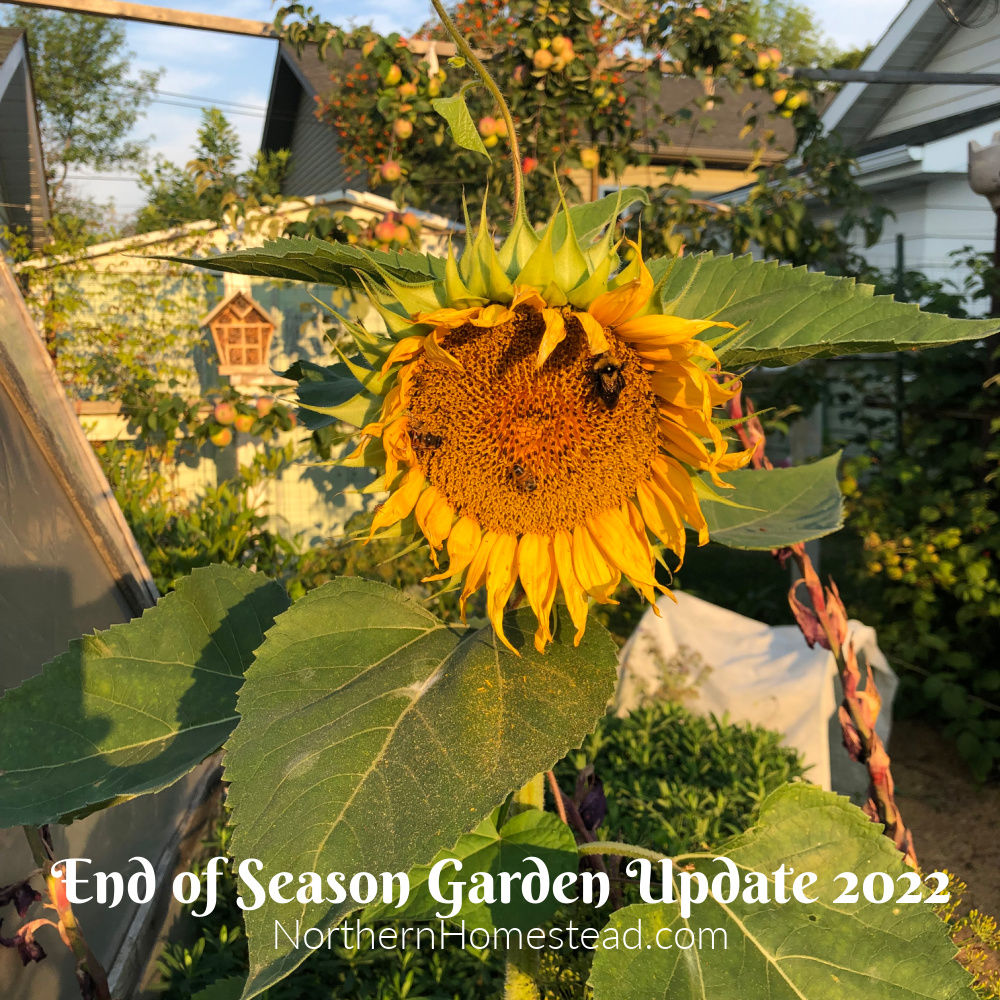 We are looking back with gratitude to yet another productive gardening season this Thanksgiving weekend. It also happens to be our 15th anniversary of living in Canada. The beautiful fall weather we are enjoying reminds me of our first fall here. Back then we did not know how rare the warm Octobers are. This one is really exceptionally beautiful!
The end-of-season garden update is for our urban garden. There is a lot more to say about our new country garden, but I'm leaving that for later, once the garlic is planted and the gardens are prepared for winter.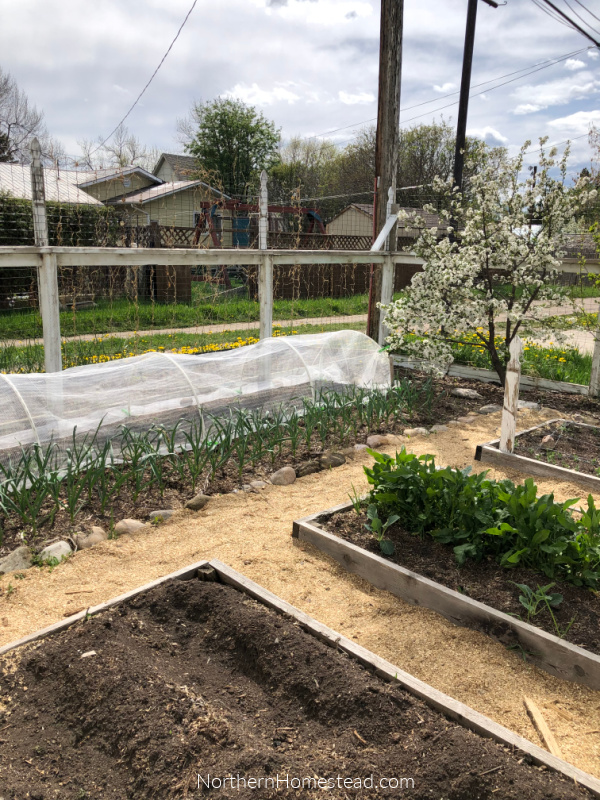 2022 might be our last urban garden update in this form since we are transferring the garden to our country property. However, this year we were growing both since we had no idea what to expect from the country garden. After intense growth in our urban garden for many years, there is reconditioning needed in many areas.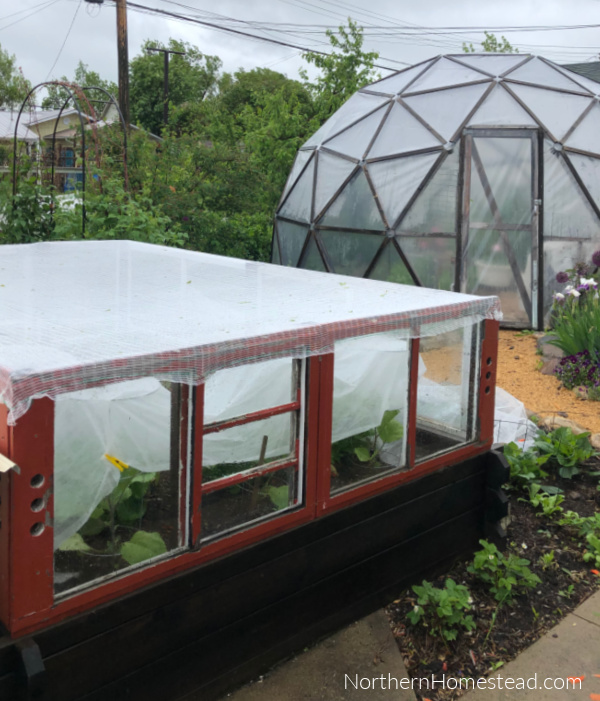 The raised window-protected garden bed has served us well. The hail netting has brought the protection to another level. But since the garden is sitting on a concrete driveway without any access to the soil, it is considered a container garden.
We encourage, whenever possible to connect raised beds to the soil. Read more about raised beds versus container gardens here. In a container, the soil can not regenerate and has usually to be replaced at some point. Taking it all out, and mixing it new with good compost is another option. In any case, there is work needed.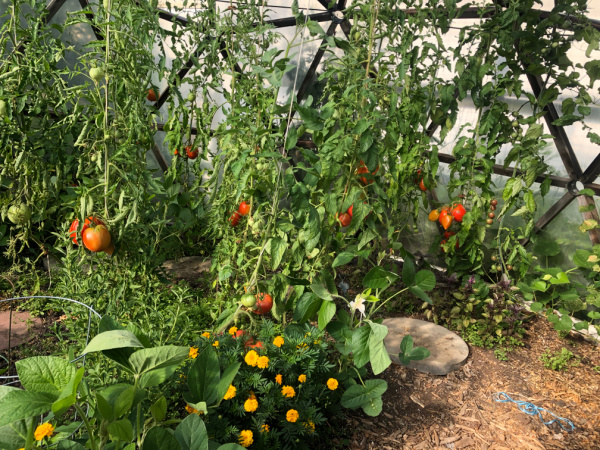 The geodesic dome struts and cover are getting old as well. We might get another year out of it, but it too needs to be renewed. The prospect to build a much bigger dome in the country is exciting. We are hoping to be able to use the same connectors, so the job should be easy, and having more greenhouse growing space is always welcome.
And our many fruit trees and shrubs are slowly transforming our urban property into a jungle. The garden here is a great nursery, but there really is not enough room to bring all of it to maturity. The plan is to move a lot of it to the country.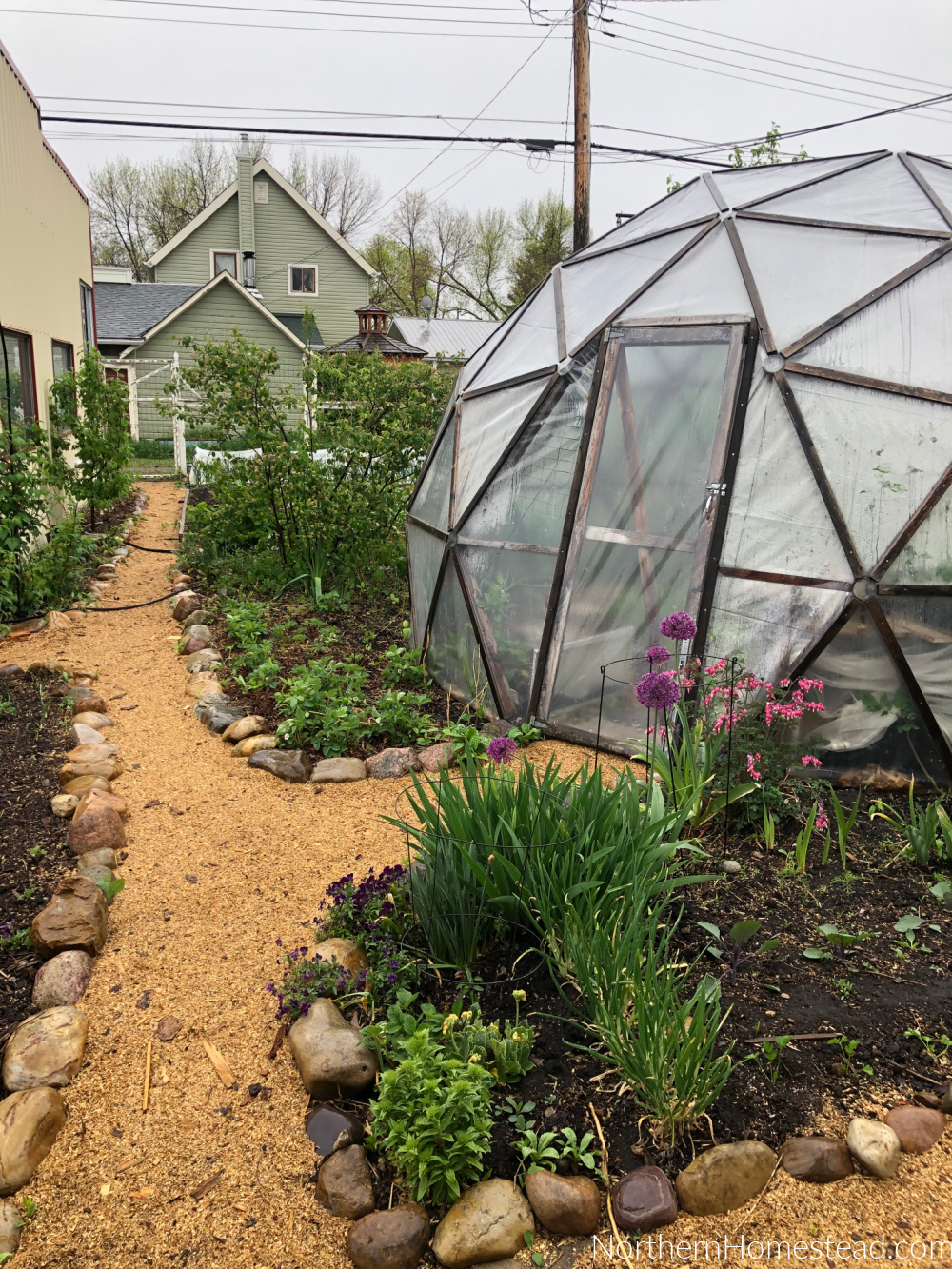 We did renew our pathways this year. We got access to beautiful free coarse sawdust from a firewood processing plant and were really excited at first about the look. However, our beloved garden cat has accepted it as her very own big garden litter box, oops.
And also the sawdust does get on and in shoes, as well as everywhere you go. So as good as it looks, we would not recommend sawdust for garden paths.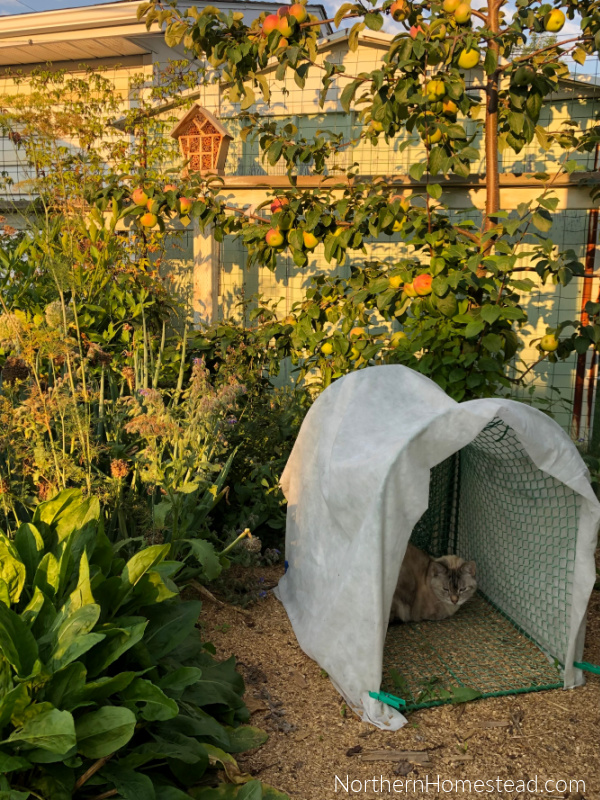 We of course still love our cat dearly, and even got her a very own hoop house, after realizing, she really enjoys spending time under our row cover tunnels. By the way, the apple tree in this picture is the M360. You can see our fruit tree varieties here.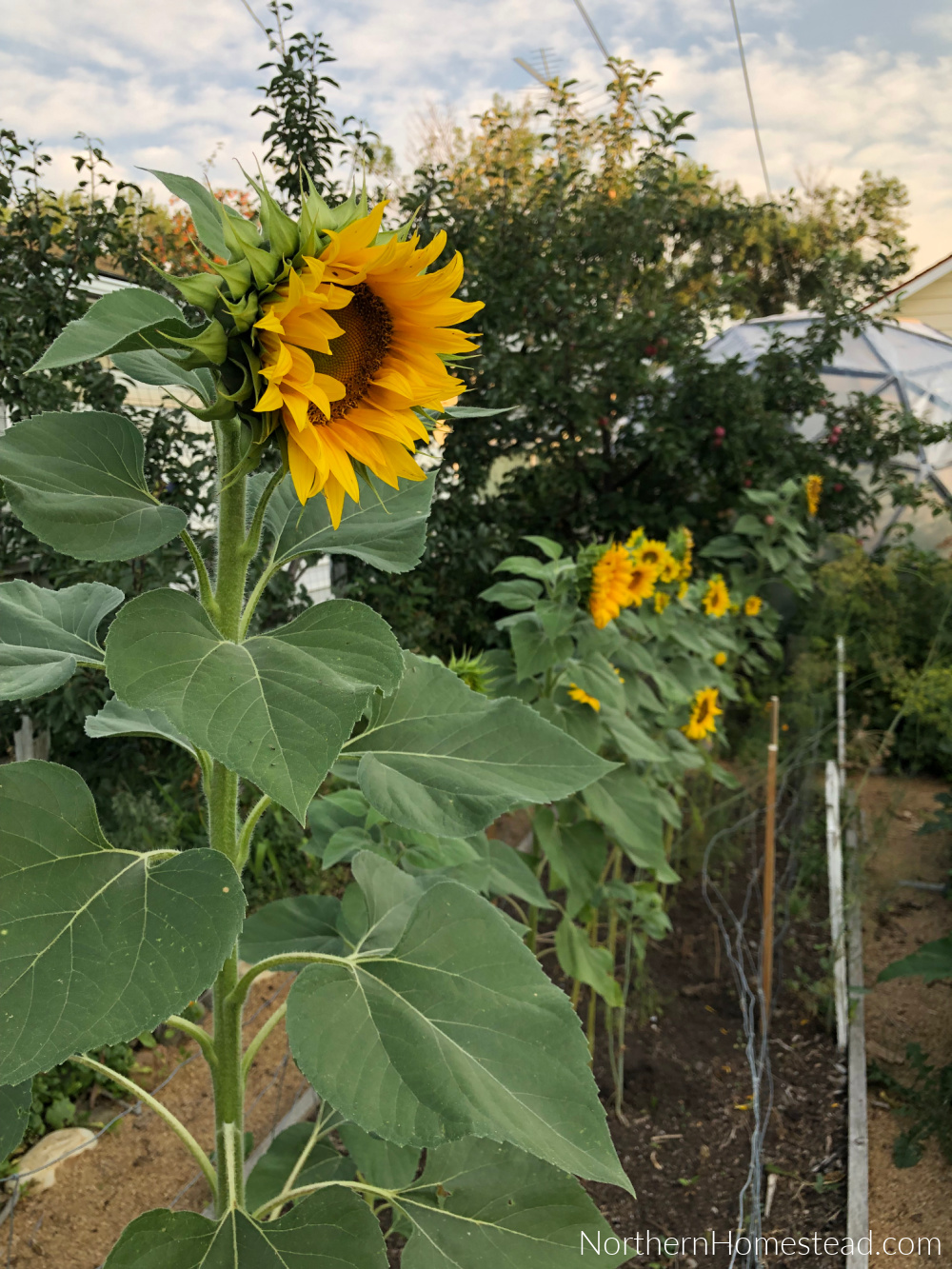 2022 was the year for sunflowers. We grow the Russian Peredovik variaty. The seeds are edible, the flowers are beautiful, and a bit earlier than the giant varieties we find.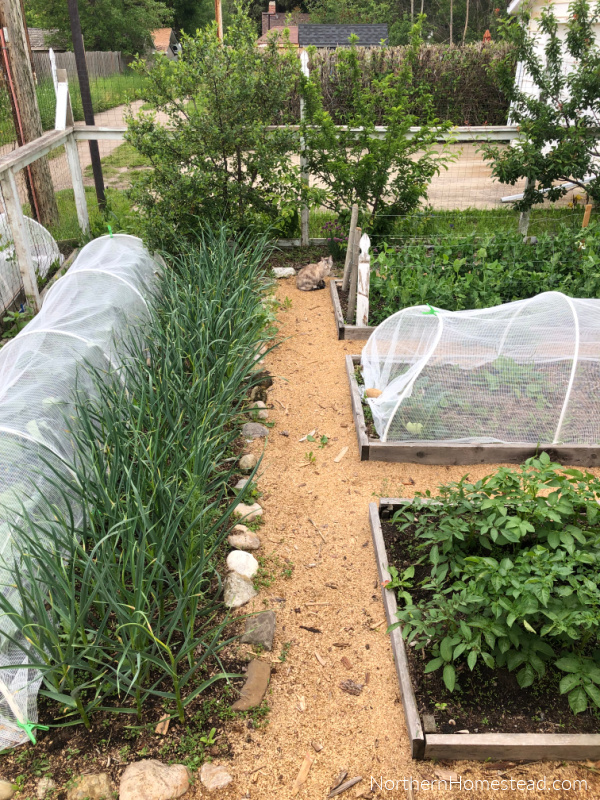 We planted our row of sunflowers between two rows of peas. By the time the sunflowers were in their full glory, the peas were harvested and removed. We really liked that combination.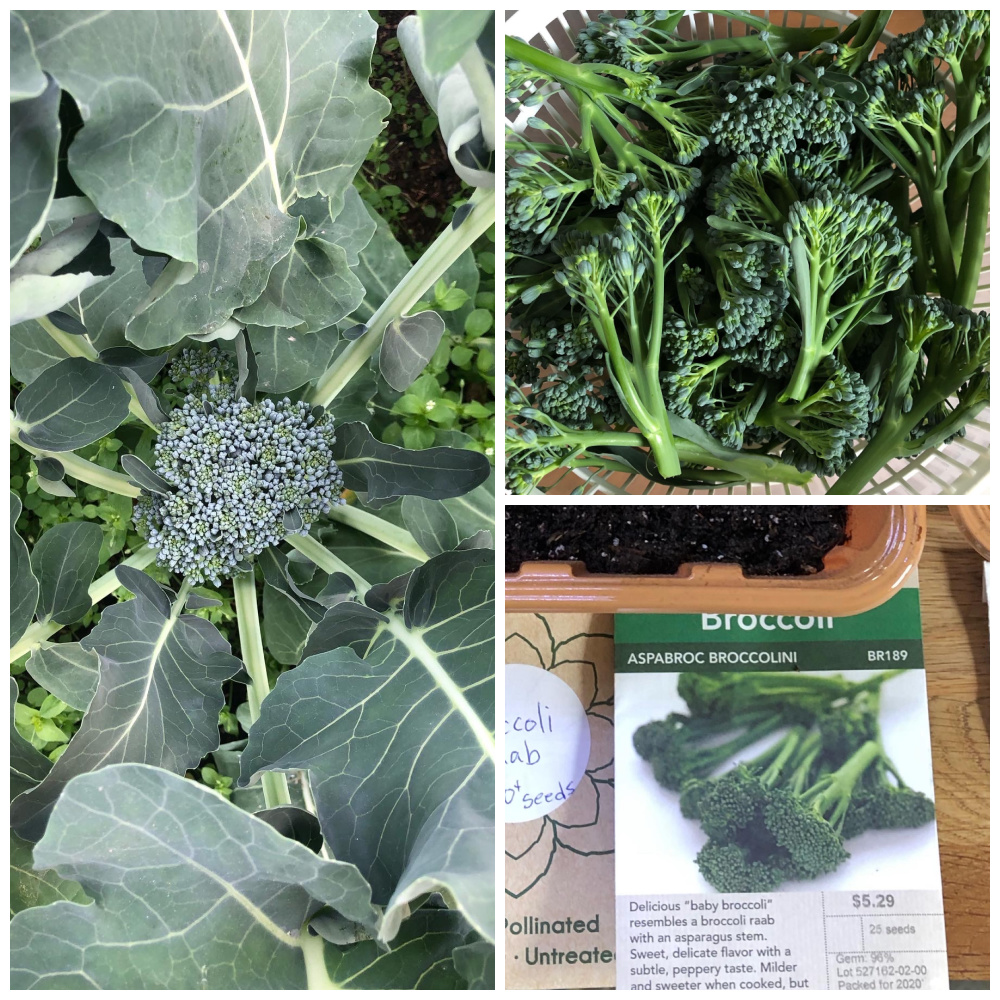 You might have heard that we have given up on growing broccoli because during our dry spring, they would often go to seed before making a head. This year we grew Asparbos Broccolini instead. I started them a bit later than the planting schedule recommends for broccoli, and they performed amazingly. All summer we were harvesting sprouts.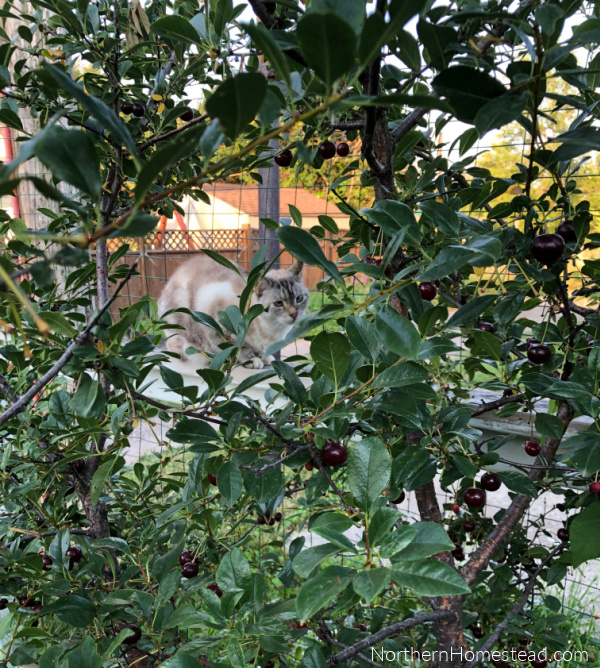 As you might imagine we have been busy, and there is lots more to do. However, our goal is to simplify.
We already paused hydroponics, and are also taking a break in some of the winter growing.
We envision a bigger, but much simpler vegetable garden, and simple rows of fruit and berry shrubs in the country. Here at home, we plan to leave tender perennials, since we are having a great microclimate, and a small herb and kitchen garden.
Since the future is not ours to see, we have to wait and see what will be.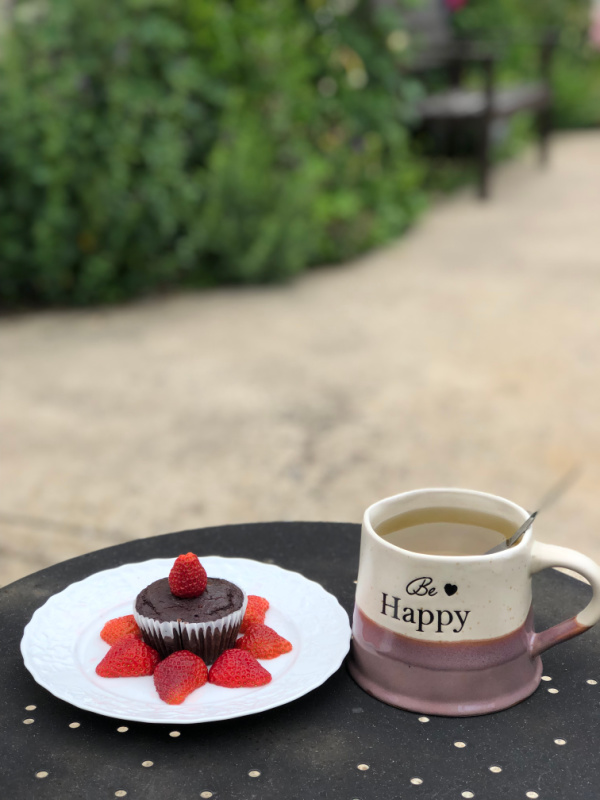 We are very thankful for everyone who takes the time to read and follows our journey. Without readers, there would be no blog.
Thank you!
We invite you to subscribe to Northern Homestead and follow us on Instagram, Facebook, or Pinterest for the latest updates.
More Gardening Posts You Might Enjoy: